We provide a wide range of services:
Preventative services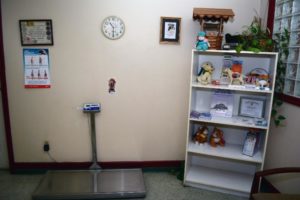 Pet Wellness Exam
Regular exams are an essential part of your pet's health and well-being.
Basic exam fee is $48.00
Vaccinations
It is important to keep your pet up to date with immunization against certain diseases. An examination is included when you bring your pet in for vaccinations. Drop in vaccinations are welcome 1:15pm-4:00 weekdays.
Flea/Parasite Prevention and Control
We offer a large selection of top brand flea products with educated advice from our friendly staff.
Spaying or Neutering
Routine spaying or neutering of cats and dogs helps control the pet population, by preventing unplanned litters.
Microchipping/Tattooing
Pet identification has helped reunite many pets with their families. Microchips are inserted under the skin and last a lifetime. Ear tattooing is also available – an identification number is tattooed into the ear. Note: We recommend a tattoo at the time of spaying or neutering.
Specialized Services
Dental Care
Professional dental cleaning is important to maintaining your pet's teeth and health. We remove plaque to help avoid further buildup. Please contact us for a consultation.
Pharmacy
We have a fully stocked pharmacy providing veterinary (prescription) drugs for small animals. Please call ahead for prescription renewals, we'll be happy to have it ready for you to pick up.
Radiology & Lab Services
We offer in house lab services and digital x-ray, ensuring results as quickly as possible.
Surgery
Please contact us for an examination and consultation if your pet requires special surgery. All surgical procedures require current vaccines and health exam (included in price of vaccinations)
Declawing
This type of procedure is an elective surgery in which the last bone and nails are removed from all of the toes of a cat's front feet. In doing so, your cat is unable to scratch furniture, other animals and people.
Euthanasia Services
Service includes Euthanasia and Cremation and taking care of the remains as directed by the client.